T
here are certain moments in your life that you never forget for one reason or another. I've been thinking about one of those a lot lately. Mainly, because I've been listening to a lot of M83 recently.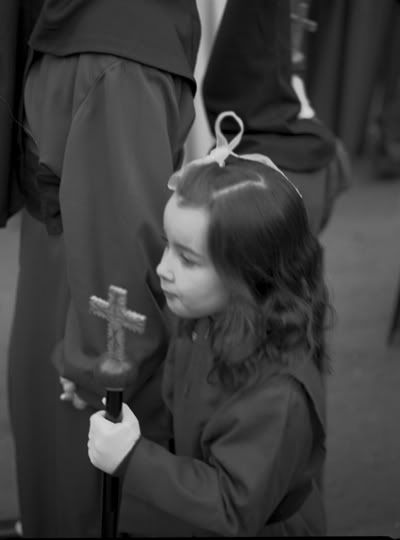 In April 2005, I packed my bags and flew from JFK to Madrid for two lovely weeks with my best friend in the whole world, Kerry. She had been living there since Feb. and with a ticket only costing $375.00 on airfrance, there was no way I could pass up a trip to my favorite country in the world (besides Los Estados Unidos Mexicanas). We spent
la Semana Santa
in
Cuenca
in Castilla la Mancha and Easter Sunday in a deserted Madrid. We ate like kings, making a roasted veggie pasta with fresh cheese and a not so great bottle of Spanish white wine. It was a great night.
There is nothing I enjoy more than long train trips. Not Amtrak, but real european long distance train travel. The first time I went to Spain, Kerry and I took an overnight train from Sevilla to Barcelona (about an 11 hour or so ride) and decided to spend the extra $30 bucks each and split a private car with beds. Our seats turned into two bunk beds with red plaid blankets and a sink. We spent the evening giggling and drinking little bottles of wine from the cafe car. A sleepover on the rails. Amazing! So when it came time for me to get back to Marid for my flight at the end of my trip in Spain. I was in the tiny town of Palau, a village close to Figurese on the
Costa Brava
and about 20 km from the French boarder. My only choice? An overnight train from the North of Cataluna to Madrid. My eurorail pass only allowed me to sleep in a 6 person couchette where you must spoon your backpack and there is so little room to move that no one sleeps. What a horrific way to end my trip! So at the last minute and a tiny bit of luck, I landed the last private car on the train for an additional 65 euro ($90 usd) which, at the end of the trip was difficult (yeah, thanks mom!) When I got to my private car which was pretty much the same set up as the one I shared with Kerry, but with one difference. I had a shower! And a towel! WOAH! And There was a train person for just our section that would wake us up in the morning, lock our doors for us when we got up and was only a little phone call away (that is, if you spoke Spanish).
It was 14 hours from Figures to Madrid. I pondered what I was going to do with my time. I got a Jamon Serrano sandwich con queso and two little bottles of wine. I put on my pajamas and my ipod and sat quietly next to the window, watching the towns whiz by at dusk. The song "Slowly" by M83 played on my iPod and for some reason the scene was just perfect. The music synced to the scene out the window and the way I felt in my tiny train car. I spent the rest of the night, chilled out, with my little bottles of red wine, some pills, and the book "Ignorance" by Milan Kundera. That night, I nev
er felt so alone but yet so liberated. I was as far away from anyone I knew on a train in a foreign country, traveling through the night to my destination. I woke up in the morning to the sound of my in car phone ringing, telling me we would be at the station in 1 hour. I took a shower, did my makeup and repacked my bag. My flight wasn't for hours so I headed to the airport and dropped off my luggage and headed into Madrid via subway to see the sun come up on Plaza Mayor. I sat in the corner of a cafe on the Plaza, ordered a cafe con leche and a croissant while trying to ignore the large table of German teenage tourists making a racket and annoying everyone within earshot. I am not sure what I want to tell you with this story. I have never felt so alone but yet so safe and happy. The solitude that I had in that 12-16 hours was unlike any other time I have had in my life. The quietness, the lack of human communication. It was stunning. I did not want to go home. I wanted to take another overnight train with nothing but a change of clothing, my cameras and a few dollars to my name. One day, maybe I will have the guts to plan a trip alone and travel to unknown places and learn about them and learn about myself.
photo note: i only took the first photo on this post. since my computer was stolen in feb, all of the digital images i took while i was in spain are gone. i had photos of my cute sleeper car and my morning on the plaza major. maybe ill find copies one day...